Sales
·
Bogotá
·
Hybrid Remote
Account Executive LATAM 🇨🇴 | HR-Tech SaaS
Únete a una de las empresas de SaaS de más rápido crecimiento. Diviértete con más de 200 increíbles colegas y más de 250 000 usuarios satisfechos 🚀
We usually respond within three days
ℹ️ Sobre nosotros
Teamtailor es un ATS (Applicant Tracking System) y herramienta de marca empleadora que usan más de 6000 empresas y 250.000 usuarios en más de 100 países alrededor del mundo 🌏.  Construir un equipo diverso con trayectorias distintas es uno de los focos de Teamtailor desde sus comienzos y parte de su fortaleza hoy. No existen perfiles típicos, pero todos y cada uno de los miembros del equipo comparten nuestra visión, valores y quieren ser parte de su éxito. 

Trabajar en Teamtailor significa crecer en una empresa de tecnología joven, internacional y dinámica que ofrece un lugar de trabajo ideal para aquellos que desean tener un impacto real en el crecimiento de una organización. Y por supuesto, también significa divertirse mucho... Work hard, play hard  🥳
Además, acabamos de captar 10 millones de € de financiación que han valorado la compañía en 350MM€ 🤯 Lee más sobre esto aquí.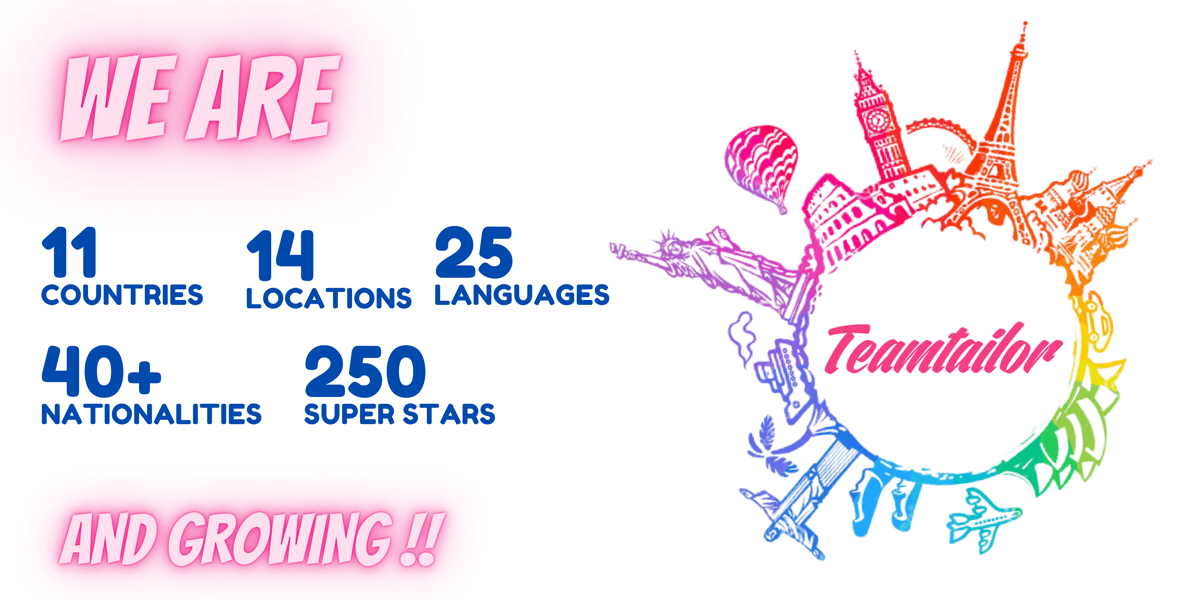 🔥 Valoramos tu personalidad y tu pasión
Para nosotros, la personalidad y la pasión están antes que la educación. Siempre contarás con el apoyo y la atención de tus compañeros Teamtailor, pero también tendrás mucha responsabilidad, así que debes sentirte cómodo trabajando por tu cuenta 😏
✅ Lo que ofrecemos
 ✨ la oportunidad de vender el mejor ATS del mercado.
 💰 un salario fijo más un modelo de comisión muy generoso y sin topes que premia a las personas motivadas y con buen desempeño.
👩🏻‍💼 oportunidades de desarrollo en un entorno de rápido crecimiento, formación continua y apoyo.
🏝 22 días de vacaciones y la oportunidad de asistir a nuestro viaje anual de empresa de 3 días a un destino de verano secreto, todo cubierto por nosotros.
🍾 innumerables eventos de equipo, celebraciones, concursos semanales, recompensas y viernes de pizza para los que les gustan los desafíos.
🎁 un kit de inicio que incluye Macbook Air, iPhone + Plan, el conjunto imprescindible de Teamtailor 😎
🌎 Pon a Teamtailor en el mapa
Serás parte del equipo "fundador" de Teamtailor en latam, para hacer que Teamtailor sea realmente el líder en el mercado, convirtiéndolo en el ATS de referencia en LATAM.
Eres un candidato TOP si:
👨🏻‍💻 Tienes experiencia en venta B2B (y si encima conoces la industria SaaS... 🤤) y tienes experiencia gestionando el ciclo de venta completo ç(desde la prospección al cierre de la operación).
🕵🏻‍♀️ Te sientes cómodo cerrando reuniones por todos los canales: e-mail, LinkedIn, teléfono.
💪 Puedes mantener un nivel de intensidad alto y tienes actitud de ganador.
🇬🇧🇪🇸 Tienes nivel avanzado de inglés y español.
Serás parte de nuestro equipo con sede en Bogotá y esperamos tu ayuda para construir el equipo. Estamos deseando saber más sobre ti y conocerte mejor👋🏼  
Workplace & Culture
Our guiding stars are to be: different, modern & personal. This goes into everything we do, from how we talk to customers, how we work and who we hire. We want to have a lot of fun doing what we love, and we make sure to celebrate every success.
Drop by one of our offices and say hello and meet our team – coffee is on us ☕️
About Teamtailor
Teamtailor is developing an employer branding platform. We help companies market themselves as an attractive workplace, engage their employees and improve their recruiting process. All in one easy to use web service. Over 100,000 people are using our tool every month to grow their companies.
Sales
·
Bogotá
·
Hybrid Remote
Account Executive LATAM 🇨🇴 | HR-Tech SaaS
Únete a una de las empresas de SaaS de más rápido crecimiento. Diviértete con más de 200 increíbles colegas y más de 250 000 usuarios satisfechos 🚀
Loading application form
Already working at Teamtailor?
Let's recruit together and find your next colleague.