Sales
·
Helsinki
·
Hybrid Remote
Sales & Business Developer (Finland) 🇫🇮
Join one of Europe's fastest growing SaaS companies. Have fun with over 250 amazing colleagues and over 180 000 happy users 🚀
Let's build the future together!
Teamtailor is an Employer Branding and an ATS SaaS platform used by over 6000 companies, 180.000 users in 90 countries around the world 🌏.
Working at Teamtailor means working at a young, international, and fast-paced tech company that offers an ideal workplace for those who want to have a real impact on the growth of an organisation and are craving for responsibilities. It also means having lots of fun 🥳
Building a diverse team with various backgrounds and expertise is at the core of Teamtailor since its very beginning and is truly part of its strength today! There are no typical profiles, each and every team member shares our vision and wants to be part of its success :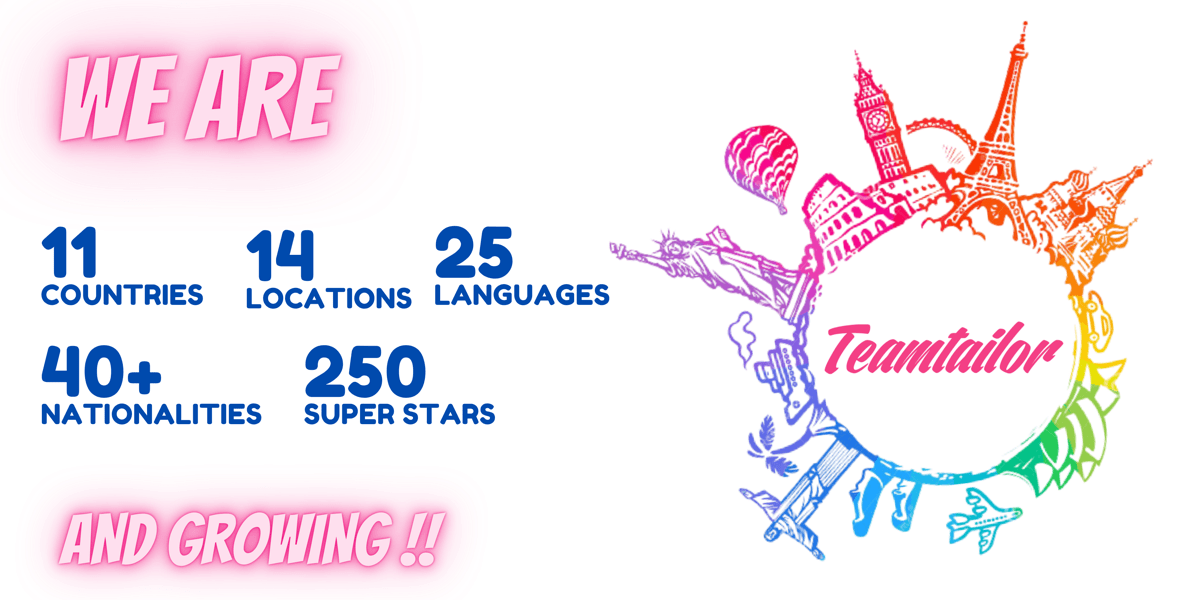 As a 🇫🇮Finnish-speaking Sales & Business Developer🇫🇮, you will be our new team member based in Helsinki and part of our existing Finnish Team, which is currently made of 12 superstars: Annika, Oona, Kaisa, Ellen, Saana, Amir, Bastian, Jan, Eero, Max, Sami and Markus.

Our new office is located in Pitäjänmäki, Helsinki, where high-quality restaurant services are available throughout the working day. You can choose your breakfast from a versatile porridge and yogurt bar. At lunch, several meal options are available, either self-service from the line or finished from the service line; home cooking, flavours from around the world, grill, pizza and deli.
Our team is the key to success - our ages range from 21 to 45 years old, with all sorts of different sales and non-sales experiences. You will not only learn from your manager but from every single member.

Today, the adventure is getting even more exciting - The groundwork has been done in the market, and we are the leading ATS in Finland! You will have the possibility to meet great HR / recruitment leaders for start-ups and big companies.
As a Sales & Business Developer at Teamtailor you will be offered :
✨ the opportunity to sell the market's leading employer branding and recruitment platform
💰 a fixed salary and a very generous commission model with no caps that reward people who are motivated and perform well
🏃🏻‍♂️ development opportunities in a fast-growing environment, continuous training, and support

🥪 Monday afternoon snack at the office
🫶🏻 extended and comprehensive occupational healthcare services
🍾 tons of team events, celebrations, weekly competitions and rewards for you who like challenges
🎁 a starter kit which includes a Macbook Air and iPhone + Plan, the must-have Teamtailor outfit including a tote bag, t-shirt, sweater, hoodie...
We value your personality and passion!
For us, personality and passion come before education. Your difference is your strength and you will always be supported and looked after by your Teamtailor colleagues. You will have the responsibility for your own work, meaning that working also remotely isn't something you mind.
Additionally, we are looking for someone who :
🇫🇮 is fluent both in Finnish and English
👨🏻‍💻 has previous experience in B2B sales (with SaaS platforms is a plus) and can be responsible for their entire sales cycle from prospecting to sales
🕵🏻‍♀️ is comfortable in generating their own leads, prospecting via email, cold calling, using other social networks such as LinkedIn, booking meeting, and conducting demos
💪 has the will to push harder and keep high activity
☀️ has a positive and caring attitude
If this sounds like you, then you know what to do 😉
Interview process :
If there is a match from the get-go, things can move really fast (some of our top performers have been hired in less than 2 weeks after the 1st call). The process usually includes these steps :
1) Introductory call / 10 - 20 minutes
2) Manager Interview / 1 hour
3) Study Case + Informal interview with part of the team / 1 hour

4) 15 minutes call with Country Manager or Head of Sales
5) Reference call
We look forward to receiving your application.
Good luck from your future colleagues 🍀
About us
Here at Teamtailor, we are committed to turning HR into Heroes 🎉 We strive to change the way people are being hired all across the globe, focusing on amazing experiences and making recruitment fun and innovative. 



Workplace & Culture
Our guiding stars are to be: different, modern & personal. This goes into everything we do, from how we talk to customers, how we work and who we hire. We want to have a lot of fun doing what we love, and we make sure to celebrate every success.
Drop by one of our offices and say hello and meet our team – coffee is on us ☕️
About Teamtailor
Teamtailor is developing an employer branding platform. We help companies market themselves as an attractive workplace, engage their employees and improve their recruiting process. All in one easy to use web service. Over 100,000 people are using our tool every month to grow their companies.
Sales
·
Helsinki
·
Hybrid Remote
Sales & Business Developer (Finland) 🇫🇮
Join one of Europe's fastest growing SaaS companies. Have fun with over 250 amazing colleagues and over 180 000 happy users 🚀
Loading application form
Already working at Teamtailor?
Let's recruit together and find your next colleague.