Sales
·
Austin
·
Fully Remote
Account Executive (New Sales) - US
Join one of Europes fastest growing SaaS companies in our expansion in the US. Work together with over 275 amazing colleagues and users all over the world 🚀
Let's build the future together!  

Teamtailor is an Employer Branding and an ATS SaaS platform used by 8000 companies and has users in 90 countries around the world 🌏. 
Working at Teamtailor means working at a young, international, and fast-paced tech company that offers an ideal workplace for those who want to have a real impact on the growth of an organization and are craving responsibilities. It also means having lots of fun!
Building a diverse team with various backgrounds and expertise is at the core of Teamtailor since its very beginning, and is truly a part of our strength today! There are no typical profiles, except that every team member shares our vision and wants to be part of our success. Join us in our mission to help companies and people interact with each other in a better way so that they can make life-changing decisions together.
This position means you will be a part of the North American sales team that currently consists of 6 individuals, so you will be one of the first members of Teamtailor US and you will be a part of the team that will lead one of Europe's fastest-growing tech companies in our expansion in North America. You will have the mission to work with an established product in an unestablished market.
As an Account Executive at Teamtailor, you will be offered:
The opportunity to sell the market's leading employer branding and recruitment platform
Fixed salary together with a variable commission plan, we apply a generous model with no cap. Salary ranges are available upon request.
Development opportunities in a fast-growing environment, continuous training, and support
Generous PTO and you will be able to attend our yearly 3-day company trip, this year we are going to Italy!
Benefits such as health insurance, dental, and vision
Tons of team events, celebrations, monthly competitions and rewards for you who like challenges
Starter kit which includes a Macbook Air, iPhone + Plan, and the must-have Teamtailor merch

We value your personality and passion!
For us, personality and passion come before education. Your difference is your strength and you will always be supported and looked after by your Teamtailor family. You will have the responsibility for your work, meaning that working remotely isn't something you mind. 
Your personality, passion, and hunger to learn and develop are the most important things to us. As a part of the team, you will get the chance to develop your skills together with the help of your colleagues. By having a positive and caring attitude and mindset, you'll thrive upon greatness and create success together with your team.

Additionally, we are looking for someone who :
Has previous experience in B2B sales (with SaaS platforms is a plus) and can be responsible for their entire sales cycle from prospecting to sales
Is comfortable in generating their own leads, prospecting via email, cold calling, or using social networks such as LinkedIn, booking meetings, and conducting demos
Is highly organized and stays proactive to ensure that your calendar is full and you're able to manage a sales process from start to finish
Want to see what Teamtailor is? Here is a short product video👇 

 
If this sounds like you, then you know what to do!

We look forward to receiving your application.
Department

Role

Sales & Business Developer

Locations

Austin

Remote status

Fully Remote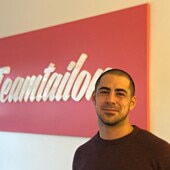 Contact
Josef Saker
Head of Sales - North America – Sales
Workplace & Culture
Our guiding stars are to be: different, modern & personal. This goes into everything we do, from how we talk to customers, how we work and who we hire. We want to have a lot of fun doing what we love, and we make sure to celebrate every success.
Drop by one of our offices and say hello and meet our team – coffee is on us ☕️
About Teamtailor
Teamtailor is changing the way companies work with employer branding and recruiting online. Want to help us make HR heroes? Working at Teamtailor means working in a young, fast-moving tech startup and working with smart people that are passionate about their work.
Sales
·
Austin
·
Fully Remote
Account Executive (New Sales) - US
Join one of Europes fastest growing SaaS companies in our expansion in the US. Work together with over 275 amazing colleagues and users all over the world 🚀
Loading application form