Social media advertising through Teamtailor
About our offerings and FAQs
Facebook & Instagram
We offer free strategic consultation
We analyze your job ad and target the relevant audience
We create a draft and help you with creative content
We monitor and optimize your campaign throughout the entire campaign period

To get started, go to Promote and click on 'Continue' under Facebook/Instagram.
Choose how much you wish to spend – in short, the bigger budget the more views you will get.
Leave additional information about your target audience that isn't mentioned in the job ad (ie. age)

You can choose between small, medium, large or custom.

Once you have chosen budget size, we will analyze your job ad, help you target the relevant audience, create a draft and publish the ad.

On traditional job boards, you often pay a fixed price no matter how many views or clicks you get. On Facebook and Instagram, you only pay per click.


For recommendations on the campaign budget, please contact our Promote expert Olle Forneus.

If you want us to put your company as the sender of the ad (the logo in the upper right-hand corner of the ad), you first have to accept our request in order to give us permission to use your page as an advertiser. This request will be sent to the admin of the Facebook/Instagram page.

If nothing else is mentioned, we will use a suitable image from your Teamtailor job ad or your career site.

If you want to use a different image/video, send it to our Promote expert Olle Forneus.

Keep in mind that images account for 75-90% of advertising effectivity/performance.

The job ad will appear directly in your target audience's newsfeed, in the Facebook Messenger app, and in Facebook's network of external websites.

Side note: If you want to advertise on both Facebook and Instagram, it's possible to create one campaign for both and let the channel that works best get the bigger share of the campaign budget. Just leave a comment in the text box where you leave information about your target audience when placing your order.
LinkedIn
We offer what LinkedIn calls Premium Job Posts. A Premium Job Post is uniquely a LinkedIn partner offering. It is similar to a Job Slot – the difference is that you only pay for 30 days opposed to 12 months (see image below).

When purchasing a Premium Job Post through Teamtailor, we analyze your job ad and help you target the relevant audience.

The base price is €390/job post. Then there are two bigger packages to choose from: Medium for €690 and Large for €990.

Notice that both Job Slots and Premium Job Posts override Online Job Posts, which means that you have to invest more in one of those to get the same results as you would get from the previous two.


See image below.

The job post will automatically be connected to your company page.

In that case, we recommend you use our so-called Trackable Share Links. You find them in the rest of the list of channels uder Promote.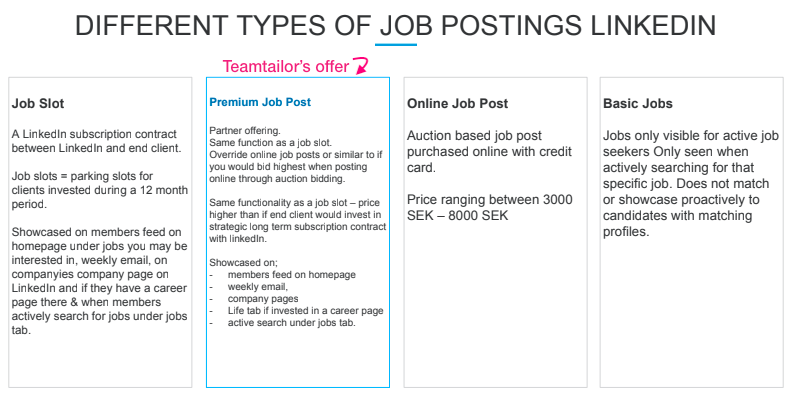 Our Promote team are experts on social media advertising and you can say that we work as consultants for our clients

Olle Forneus

Head of Social Media

The ad material accounts for 75-90% of advertising performance

Emelie Carpelan

Social Media Specialist
Didn't get the answers you were looking for?