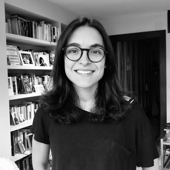 Julia Sanchez
Marketing Manager for Spain and LATAM – Marketing
¡Hola👋🏽🇪🇸!
I live in Madrid, Spain and I have two labrador dogs🐶
I'm responsible for developing strategies for customer acquisition, retention, community building, brand growth and engagement for the Spanish market.
Apart form loving my job at Teamtailor, I enjoy sports! I run my first marathon in 2022 and I will never stop running🏃🏽‍♀️! I also surf🏄🏽‍♀️, ski⛷ and sail⛵️.
I love reading, playing board games and talk about horoscopes and mystic things🔮
And yes, The Office is the best TV Series ever