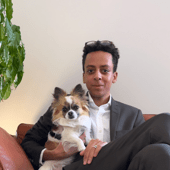 Nahom Maasho
Sales and Business Developer – Sales
Hi there! 
My name is Nahom and I'm a Sales & Business Developer at Teamtailor. 
When I'm not busy solving problems and saving the day at work, you can usually find me binge-watching my favorite shows on Netflix, trying out new recipes in the kitchen, or planning my next adventure (preferably somewhere with a beach). 
I may not be a superhero, but I'm pretty darn close (just ask my coworkers). Feel free to say hi and share a laugh with me anytime!