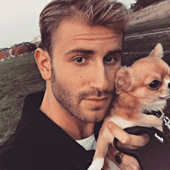 Alexandros Papadopoulos
Senior Sales & Business Developer Norway/Denmark – Sales
Hi,
Welcome to my profile! I am a person who is almost always happy and have an easy path to laughter. My journey in sales started at an early age, right after high school. Sales came very naturally to me as the interest in deal-making and connecting with other people motivated me. Being able to help people and having fun at work made me hungry for success.
Keeping busy in my spare time by playing rugby, going to the gym, playing the guitar, and learning about history!
Message me on LinkedIn or wherever you feel comfortable if you have any questions about my work at Teamtailor or how to play a cool guitar solo!

Keep safe!