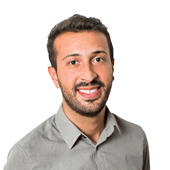 Rodrigo Ramos
Global Localisation Manager – Marketing
Oi! Hello! ¡Hola! Hej! Γεια σου!
I joined Teamtailor in 2022 as Global Localization Manager. My role is to ensure that the localization process runs smoothly and that our platform users have a localized experience. I am in touch with different departments at Teamtailor, and I work close to linguists who translate our platform and content into many languages. As we keep growing, even more languages will be available - this is very exciting!
I am originally from Brazil and I have a passion for languages. I speak Portuguese, English, Spanish (sometimes Portuñol), Swedish (to be more precise,  Swenglish), and I can understand quite some Greek (in constant progress). Ah, French and Italian only after the second glass of wine. Just kidding! :D
I love listening to music and dancing. If you check my Spotify you will find songs in Portuguese, English, Greek, Spanish, French, Swedish, Italian. It's a big mix of languages and also styles.
I love traveling, going for hikes, picking mushrooms, seeing animals in nature. My favorite place is by the sea.

Oh, and yes, I love pizza!