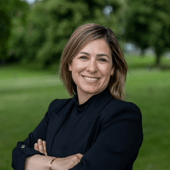 Maria Carlsson El-Haddad
Sales & Business Developer – Sales
Hi!!! 

So nice to be a part of the Teamtailor team.
I joined Teamtailor in 1 September 2022 Team Malmö. I love the contact with customers and help them be better in 

Born and raised in Östergötland a city called Motala. Moved to Malmö for 16 years ago and totally in love with this city. 
During my spare time I love to exercise, spent time with my family (two kids, husband and a French bulldog named Gaston after Gaston in Beauty and the beast. I also have a third baby called STRONGMom App who is my biggest proud after my kids :D 
Feel free to connect :)